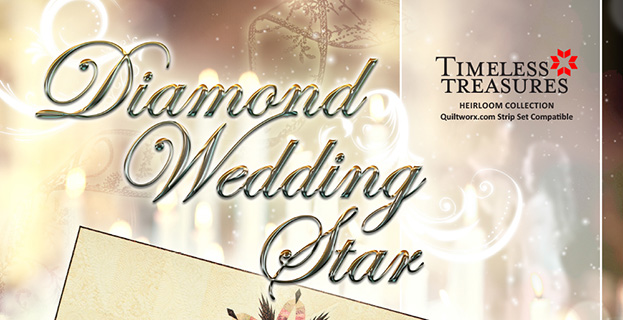 The Diamond Wedding Star Pattern was designed by Judy and Bradley Niemeyer as a 96" x 99" quilt. Digital quilt designs are available for this pattern as full purchase or as individual units. The quilt has up to 10 distinct units and various designs you will see on this page can be grouped together as desired to provide for quilting of your entire wall hanging. Please review the digital quilt design information closely prior to purchase to ensure you are purchasing a design that can be used on your quilting machine and that you understand the encryption requirements, as appropriate for the design element you are purchasing. These requirements vary from designer to designer and may result in the pattern not being compatible with your quilting machine.

DUE TO THE DIFFERENCE IN CREDIT CARD AUTHORIZATION,

DO NOT

CHECK OUT WITH PAYPAL, AS YOU WILL NOT BE ABLE TO IMMEDIATELY DOWNLOAD YOUR FILE. IF YOU DO CHECKOUT WITH PAYPAL, QUILTWORX.COM MUST MANUALLY COMPLETE YOUR ORDER BEFORE YOU CAN RECEIVE THE DOWNLOADABLE FILE. THIS CAN BECOME A PROBLEM IF YOU ARE ORDERING OUTSIDE OF OUR BUSINESS HOURS.